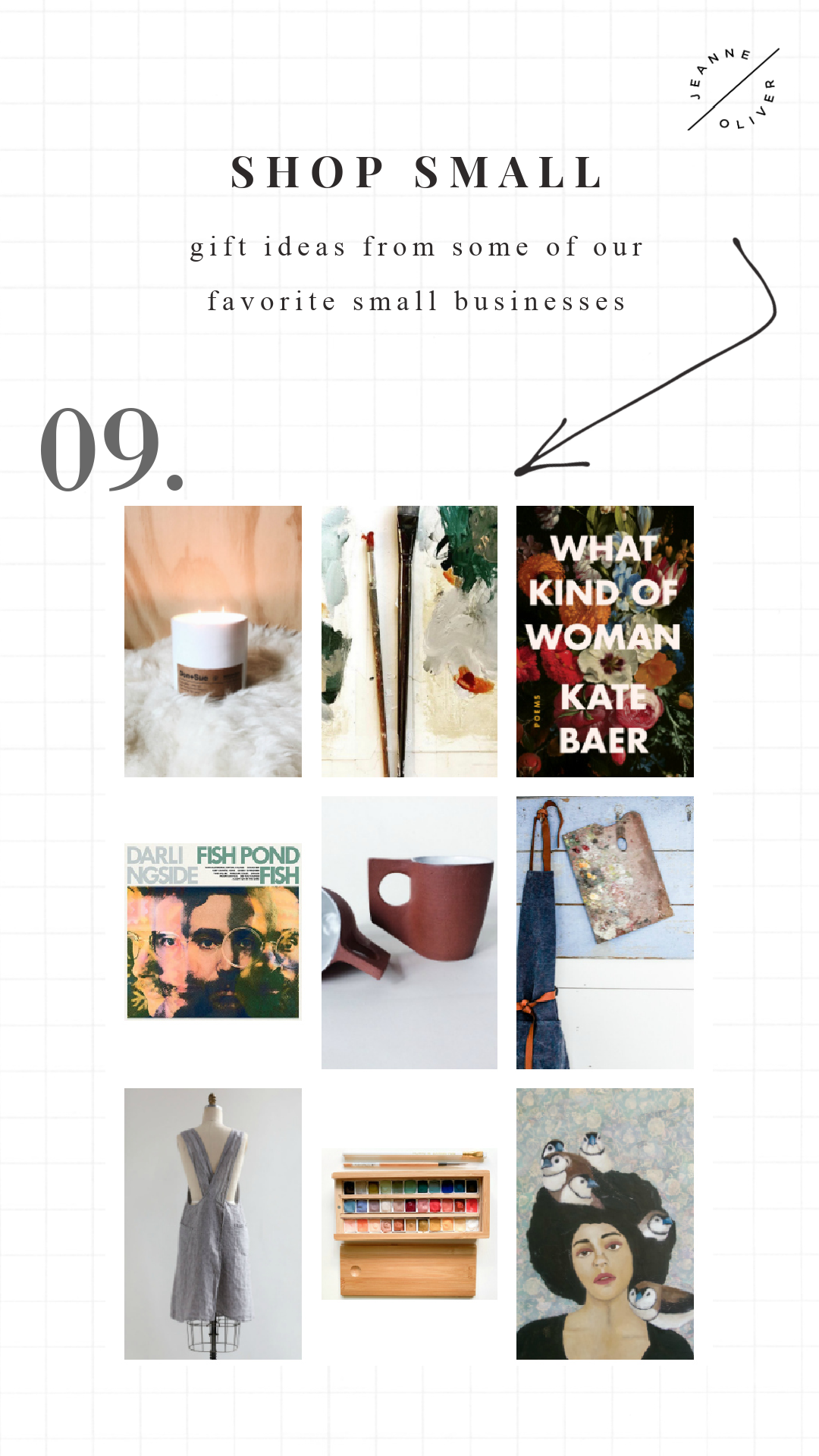 I have watched with awe and pure respect as so many small business owners have worked harder than ever this year to save, sustain or grow their businesses. Each birthday gift I purchase, teacher we want to thank, or Christmas gift I wrap each year…it is with great intention to try to support another small business in the process. This year this simple act is more important than ever before! I do not want to see a world without the beauty, creativity, ingenuity and passion that entrepreneurs bring!
I wanted to share some of my favorite small businesses and PLEASE share yours or those that you love in the comments! Lets love on all of the small businesses this Christmas!
1. The holidays are just a little more cozy with the soft glow of a candle. I love buying hand poured candles from artisans and this one is from Onyx Studios. This candle company was created by husband wife team Jen (designer) and Aaron Wagner (musician).  This is the perfect gift for friends, neighbors and teachers. This is the gift that everyone loves!
2.With all of us at home more than ever before we are so fortunate to live in a time with incredible online offerings. Start 2021 off with beautiful intention in The Unstuck Artist with Stephanie Lee! Four weeks to creative freedom! There are so many creatives you can learn from right now and online courses are the perfect way to stay inspired during this challenging time!
3.Can you imagine a world without the corner bookstore, great suggestions for what to read next, the soft chair in the corner to flip through the pages as you sip your tea? Small bookstores need us!  Before you order a book online please consider running down to your local bookstore first and help keep their doors open. Our local bookstore is Sudden Fiction Books and they always are so helpful, can order anything and have books I have never heard of! I love being exposed to what they are finding interesting and worthy of being shared.
4.Whether in our home or in my studio…I LOVE having music playing. One of my favorite splurges is my monthly subscription to Magnolia Records. This monthly club was created by Drew and Eli Holcomb. Go and check them out too! They offered the most wonderful kitchen concerts during lockdown.  I love knowing that each month I will get a new record and get exposed to another incredible artist. This is the perfect gift for the music lover in your life.
5. I believe if you use it daily that it should be beautiful! These mugs are some of my favorites and I always feel like I am having my morning coffee or tea in a work of art. I love using something daily that was lovingly created by another creative! These mugs are from potter Anne Carnevale.
6. Don't overlook vintage when gift giving. I love to give vintage linens with a friend's initials, vintage books, sculptures, papers etc. The list is endless and you are giving something that can not be found just anywhere. I usually gift half of my gifts from vintage vendors because it feels super intimate and special. For something extra special please check out my friend Maria at Dreamy Whites Atelier.
7. The perfect apron for the studio or kitchen is a must! I have a million myself but also love to gift them. There are so many artisans offering really special aprons and it is so fun to support these seamstresses and creators. This apron is from Alder and Co.
8. Art supplies. If you know…you KNOW!  Whatever your "thing" is you know we love having the perfect tools and supplies. Some of the most luscious watercolors I own are from hand-poured watercolor artisan Ocean Paper. They are exquisite and it is a huge splurge but completely worth it for that special artist in your life. You can handpick your own pans for the sets so don't feel like you have to buy just what you see. Each set is created in Kauai.
9. Support the fine artists! Buy their originals, their prints, notecards, calendars, sculptures, gift cards to their shops and whatever they are offering! Buy for yourself and give their beautiful art away! This piece is from Rebecca McFarland from Telluride, CO. She offers originals and limited edition prints.
Thank you for supporting small businesses! Thank you for all of the ways you have loved on us this year, the artists in our creative community and purchased from our online shop! Now, share YOUR favorite small businesses in the comments!