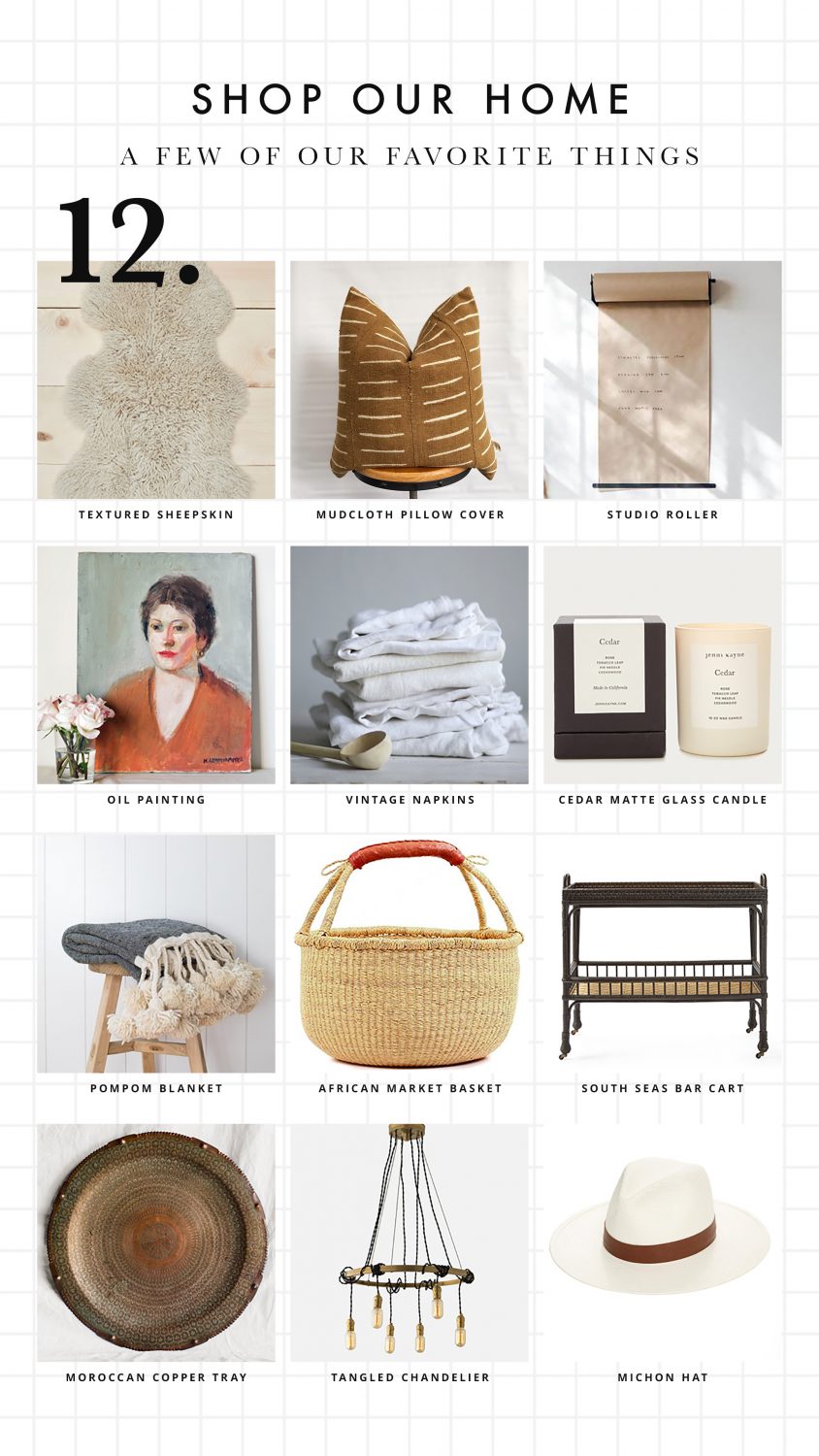 We loved sharing our home dressed up for Christmas and your feedback is always the sweetest.  We always get so many questions about our home, how we decorate and how to create a home that looks modern but feels cozy at the same time. I think creating home is a gradual and beautiful process but I think there are some key elements that bring that cozy and modern feeling together.
We have gathered some of our favorite things from our home that I believe bring in history, layers, texture, beauty and just fun.
1. I don't think you get more cozy than the perfect sheepskin rug. We use these everywhere. We use them when we entertain outside, it is the first thing that my feet hit when I get out of bed in the morning and it is draped on multiple chairs throughout our home. It adds not only warm and comfort but pure cozy vibes.
2. Pillows are one of the most affordable elements of your home to change out with the seasons. I believe you purchase made for the long run furniture pieces and layer them with more trendy blankets and pillows. I love our pillows to have great texture and this is one way I bring in unique colors into our home.
3. Give me all the words, fonts, and typography. Throughout our home we have displayed different vintage signs from our travels but nothing beats your own words, your favorite poem or song. The clean lines, black metal and then the texture and color of this paper roll adds so much to our kitchen and it is just plain FUN.
4. Art is so important in our lives and also how we have chosen to decorate our home. Art is one of the first things we purchased as a married couple and it has been my favorite gift since. I can be down to my last two dollars and I will usually be choosing art over almost anything. It is also one of the best feelings in the world to connect with the work and beauty of another person and bring that into your life. Our walls may be white but that is only so the colors, compositions and lines of the art can shine.
5. We have linens on our table, in our bathrooms, wrap gifts with them, dry our dishes, entertain and layer throughout the house. As long as I have traveled I have been drawn to vintage linens and the beauty they add to day to day life. Use your linens. Use them and love them until they are worn out. I do not want to save the prettiest things in our lives for special occasions. Every single day is worth living in beauty.
6. I have the most beautiful diffuser that we use each day for scent and usually when we light a candle it is unscented and just for the beauty of the light. Scent is so huge for feeling comfy and cozy in your space and this candle is what I light when I am missing the friend that gave it to me.
7.We have blankets in baskets throughout the whole home. I hate being cold and I am always cold so I have pretty much created an environment to keep me alive:-)  Nothing says cozy to me like curling up with a cup of tea, talking to Kelly or reading a new book and being cozy warm in a blanket. This blanket I purchased in Morocco but I have found a source for you.
8. I love the texture of this woven basket and the leather handle. I store everything in them. I have one in the car, bathroom, laundry room, next to my bed etc. This is a beautiful way to store almost anything and it will look beautiful in the process.
9. Gathering friends and family is one of my favorite things in the world. The texture and size of this bar cart means we can serve drinks and appetizers easily and it looks pretty dang cute in-between. The two shelves means I can easily set up the bar with everything a party needs and even allows our guests to serve themselves. I am a sucker for vintage glasses and good labels and this allows me to show them both.
10. One of the most sure ways I know of to make your home stand out and look authentically you is to search out unique vintage items. In a world where everyone can order the same things from almost anywhere it is a beautiful way to reuse what is already in the world and bring things that you find beautiful into your day to day life. There is not a room in our home that does not have vintage items as furniture, art or display. It changes a space and it means you are living with beauty in such a sweet way.
11. Lighting! Want to transform your space? Paint and lighting are one of the easier and most fun ways to do that. A friend of mine once said that lighting is the jewelry for your home and I have to agree! Don't just buy from one place. Have fun picking out the best lighting from lots of different places and do not be in a rush. Take your time putting your home together. You don't want your home to look like a model home showroom (unless you do:-)).
12. Show off your collections. I have been wearing hats for years but it was not until I saw my friend Alexis' hat wall that I knew I had to totally copy her and make one myself. I know that nails will be going up all over the world now and husbands won't know what happened!