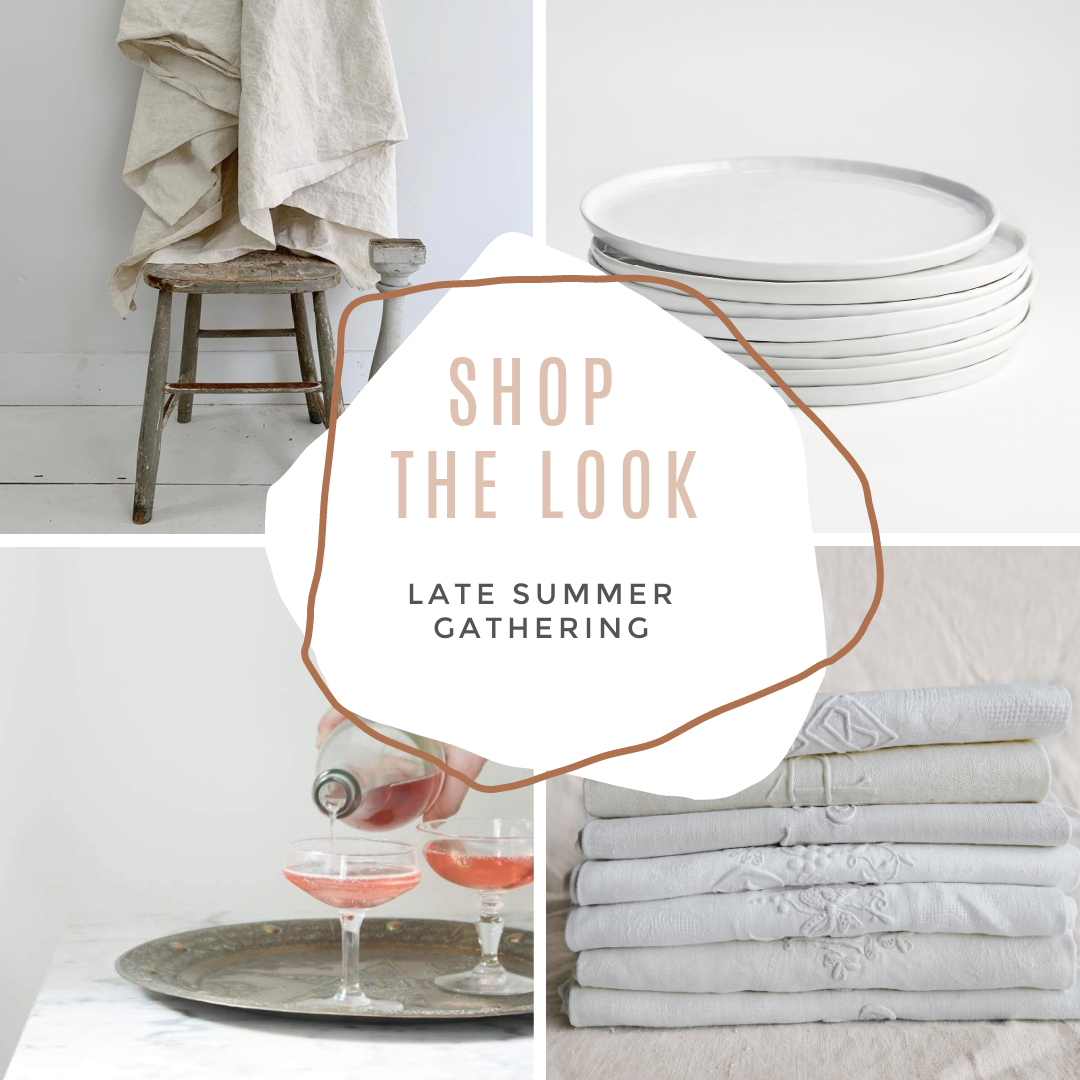 Last week I shared my late summer gathering post inspired by friend Courtney's brand new book, Inspired Gatherings.  Everything used in the photos was pulled from our cabinets and foraged on our land but I have been collecting pieces for years. One of the most common questions I get is regarding where I find some of the staples I share in my entertaining or home posts. When possible I love to share my favorite shops and also suggestions for where to find beautiful items you can use in your day-to-day life for years to come.
Keep reading to shop this look.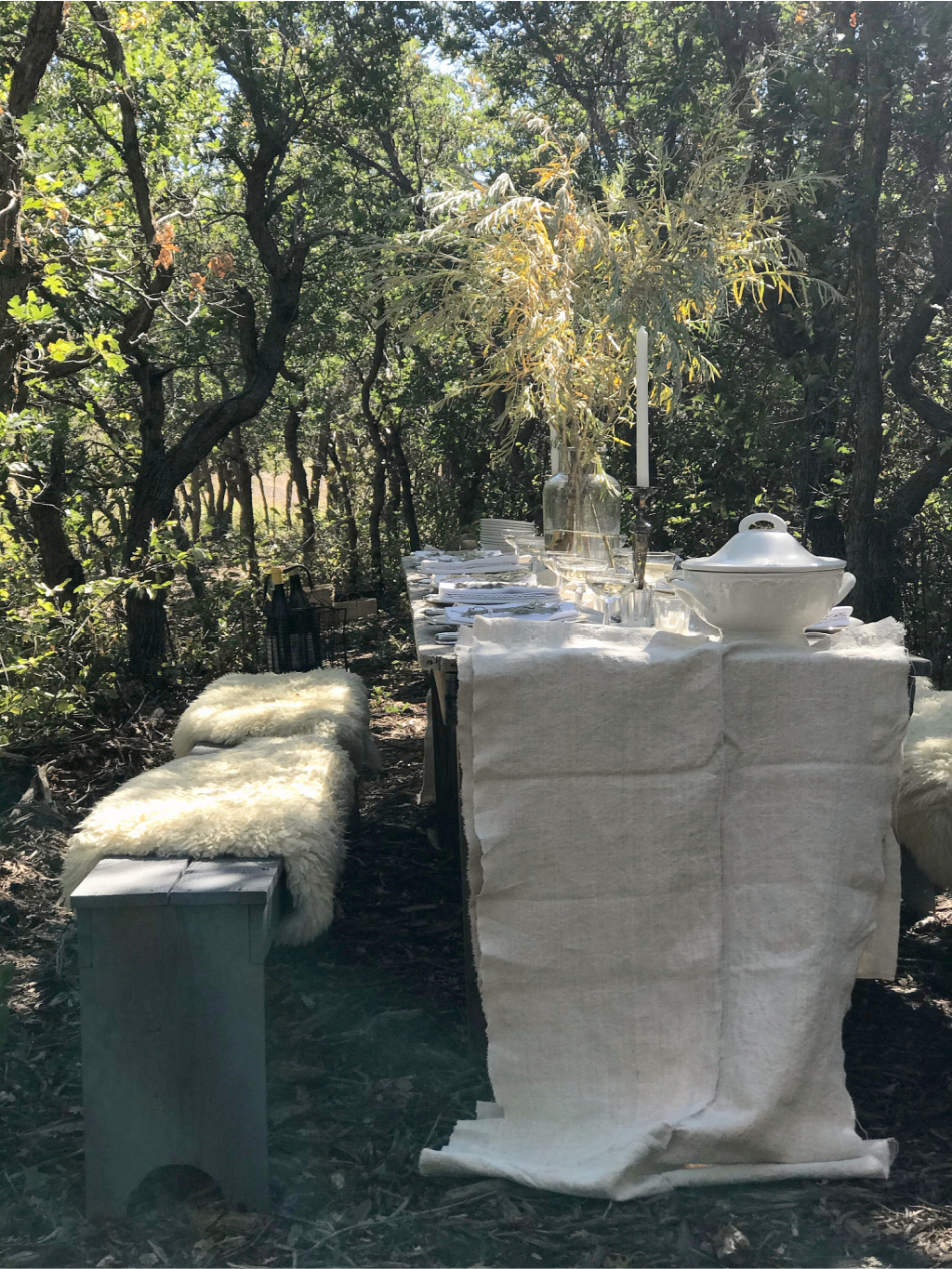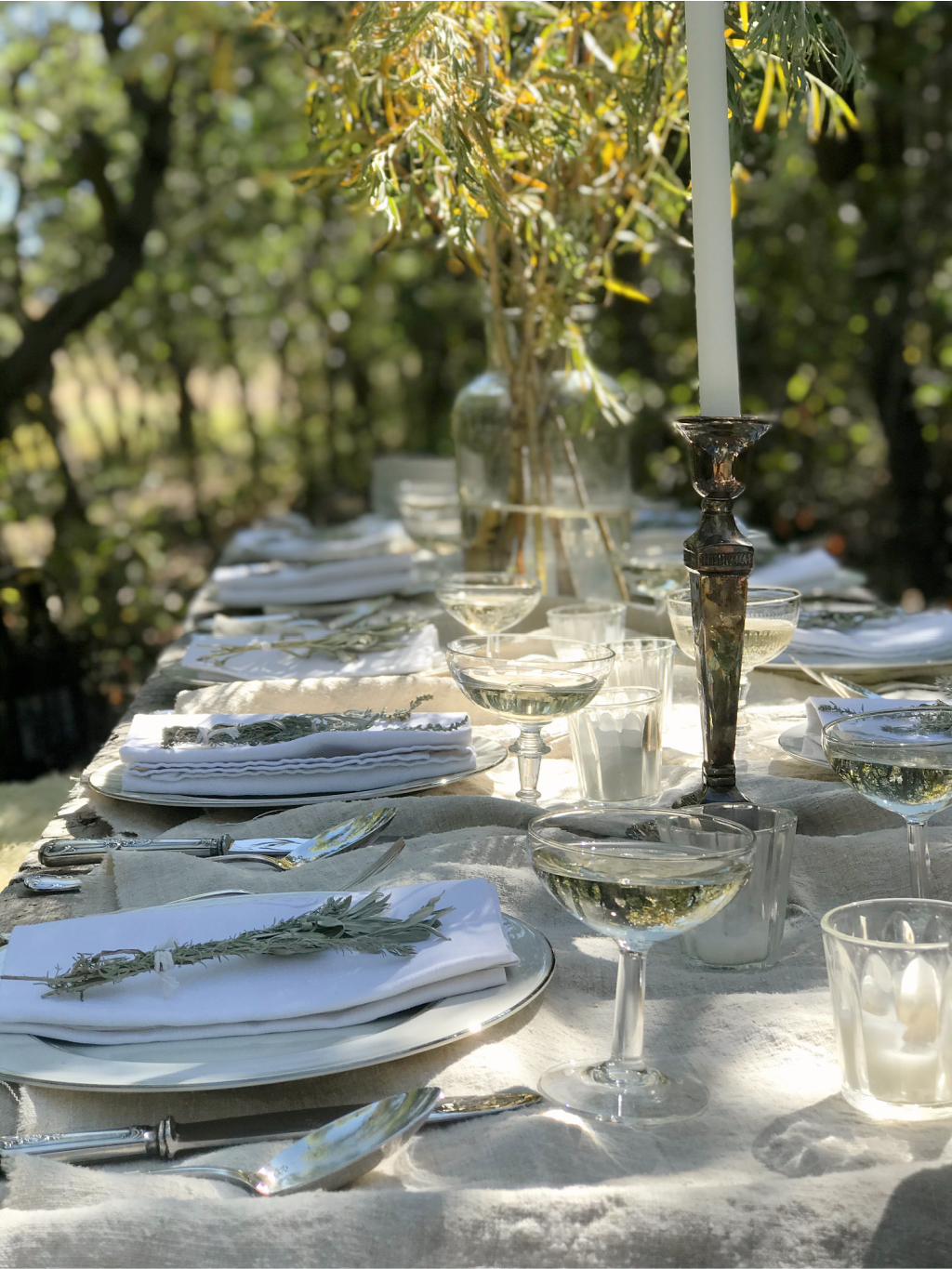 You can read the previous post and see all of the images HERE.  This gathering started with a long table and benches covered with lambskins. I use vintage French sheets often because of the way they drape, the beautiful texture and often the gorgeous little treasures of embroidered initials in a corner. This sheet was torn into three sections to give us a runner instead of covering the whole table. I like seeing peeks of  the old rough wood mixed with the delicate linens and china. I then mixed my mom's vintage wedding china with our wedding china. The older I get the more and more I love using this china and not keeping them so precious and unused. The flatware is all vintage French silverware and is complimented by the vintage etched champagne glasses. Each plate was topped with vintage embroidered French linens and sweet wild sage bundles from our land. The centerpiece is a vintage pickling jar with foraged willows from our land. I love clear glass vases and being able to see the branches and stems. The clear glass also gives the table a more light and airy feel as the light refracts off the glass and water. No table is complete without a little candlelight. We used vintage church votives and vintage candlesticks.

| Vintage Picnic Table | Vintage Champagne Glasses | Vintage Linens | Market Basket | French Silverware | Pickling Jar | Our Everyday Dishes | Lambskin | Vintage French Sheet | Church Votives |
Disclosure of Material Connection: Some or all of the links in this post are affiliate links.  This means if you click on the link and purchase the item, we will receive an affiliate commission and we are disclosing this in accordance with the Federal Trade Commission's 16 CFR, Part 255: Guides Concerning the Use of Endorsements and Testimonials in Advertising.  And as always, we only share the links to products that we actually use and love.